ESPN updates Bowl tracking App
ESPN has updated its ESPN Bowl Bound application, and the 2011 edition sports new features as well as the established features such as providing news, video and the ever important tweets about favorite teams.
One key new feature, which works with users of the Watch ESPN mobile app, gives fans the option to stream live games on their mobile devices. Some of the new features are simply tweaking the program such as adding refresh to the scoreboard and being able to set up video alerts to key games.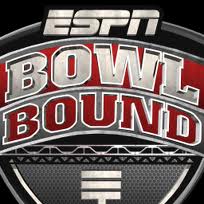 A key feature for fans that looks to really appeal to a range of fans, particularly those that do not live near the teams they root for is the Bowl Bound Team Clubhouse. The Clubhouse is a customizable feature that allows fans to add their favorite team as well as its logo and colors. It includes team Twitter feeds specifically tailored for the fans school and has a Conversation feature that enables a user to chat with similar fans and trash talk rivals.
The Clubhouse includes 240 FBS and FCS team clubhouses and has a host of information about the teams including rosters, schedules, stats and a flow of news and video t keep fans up to date.
The program has a host of other features, some also available in other ESPN programs. Weekly schedules and scores for instance. Other features include weekly projections for all 35 bowl games, aggregated Twitter feed from ESPN's college football people, weekly team rankings and poll results.
In addition you can follow ESPN's Bowl news at @ESPN_BowlBound on Twitter. Currently the app is only available of the iOS 4.0 or later environment, or to the uninitiated Apple's iPad, iPod touch and iPhone.