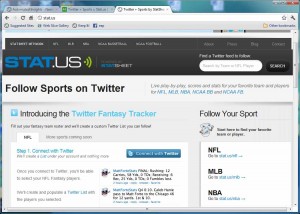 In a blockbuster move, Automated Insights Inc. has launched STAT.US, which allows sports fans to pick a favorite team or player and receive automated updates on their performance.
The website enables the average Twitter sports fan to quickly become a power user, and will drive traffic to the emerging StatSheet sports information network.
Make no mistake:
MobileSportsReport expects STAT.US to emerge as a killer application of Twitter in sports within a year, elevating the average sports fan into a mobile device power user.

In fact, STAT.US' parent company is emerging as odds-on favorite to lead the convergence of sports viewing, sports information and mobile device ubiquity.

In short, today's launch of STAT.US, when coupled with the rest of Automated Insights' offerings, have the potential to tilt the sports information industry on its axis.
STAT.US Explained
In essence, STAT.US is the consumer user interface to a sports information network that Automated Insights has built using Twitter.
Automated Insights has created the Twitter accounts that feed into STAT.US, and will be responsible for updating those accounts, including game-day stats that match or exceed the most robust offerings currently available to Fantasy team owners.
Moreover, links featured on STAT.US will drive people to StatSheet content, which uses artificial intelligence to craft stories about live sporting events, and presents sophisticated statistical data in dazzling ways.
"We turn data into automated content," Automated Insights COO Scott Frederick told Mobile Sports Report. ""We just want smarter more passionate fans."
Easy to Use Interface
The prime reason STAT.US is such a powerful idea is because it is easy to use.
Once you go to STAT.US, you simply provide your Twitter log-in information, and then name NFL, NBA, MLB players or teams, or favorite NCAA Basketball or NCAA Basketball teams. From within the STAT.US domain, your selections are automatically added to your Twitter stream, and also presented through the STAT.US portal. Each STAT.US data stream is managed on Twitter by StatSheet.com, meaning that StatSheet's real-time information can be promoted throughout a live sporting event via tiny URLs.
Making Money, Raising Money
Automated Insights makes no bones about its plans to monetize the STAT.US service.  Since those Twitter accounts feed into STAT.US, and a percentage of fans will opt to receive information through the STAT.US portal, Automated Insights Inc. will own the advertising, marketing and e-commerce opportunities that go along with the captured audience. Today, the website has AdChoices placed on every page. That's simply a signal that it plans to monetize the website in more meaningful ways once a user base is established, and familiarizes consumers with the idea that they will receive marketing messages along with information services.
As of Nov. 30, greater than 250,000 fans were actively using the network, according to an email from the company.
Automated Insights has had no trouble raising money to pursue its goals.
In 2010, it raised $1.3 million in funding, and got an additional investment of $4.0 million from Court Square Ventures and OCA Ventures in September.
The history, the team
Automated Insights and STAT.US is the brainchild of former Cisco engineer Robbie Allen, who figured out that the Twitter lists functions could be easily leveraged to provide NFL, college and NBA fans with statistical analysis, charts and stats tailored to specific players. Others on the Automated Insights team are also impressive, including former Valhalla Partners venture capitalist Frederick, who will create business opportunity for the company, VP Operations & Finance Adam Smith and VP of Product Engineering Joe Procopio.
The Big Picture
Sports is the tip of the iceberg for Automated Insights. Eventually, it will drive its business model into every vertical that has consumers interested in real-time data, including financial services. In so doing, it will compete with everyone from Bloomberg News Service to the local newspaper. That Automated Insights incursion begins with sports data underscores the desirable demographic sports attracts, as well as the natural fit between the live sports viewing experience and real-time information accessed through mobile devices.
Automated Insights has embarked upon a game-changing strategy in the information-services industry, and if Stat.US and other content offerings successfully grows a large user base in the year ahead, it won't be stopped in the sports vertical.