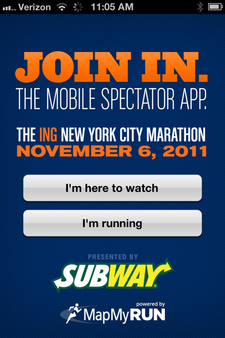 A massive sports social media blitz is in the works for the New York City Marathon, according to a New York Times report.
The New York Road Runners, organizers of the Nov. 6 race,  and MapMyRun expect greater than 100,000 people to download the Official ING New York City Marathon Mobile Spectator App, which will be released on Oct. 24 for iPhones, iPads at iTunes App Store and Android Market for Andoid devices at a price of $2.99. (A limited free version is also being released.)
If successful in reaching its six-digit download goal, the New York City Roadrunners will acheive the broadest use of an event-specific sports social media application to date, according to Mobile Sports Report.
The NYC Marathon application is also innovative. It enables double opt-in marketing that permits sponsors, including Subway, Dunkin Donuts and five others, to use GPS to deliver user-specific offers depending on their location.
Location-specific direct marketing is key to the success of event-oriented sports mobile application developers because it moves beyond a cost-per-measure advertising model into a customer acquisition model. And marketing within the application is not just tied to those watching the event live. Consumers will receive offers from Subway, Dunkin Donuts and others regardless of their location in the United States.
New York Road Runners executive vice president for business development Ann Well Crandall told the Times:
"We're providing (sponsors) with direct access to consumers. We're just scratching the surface on this."
The 2011 application is an upgrade from last year's version, which was used by about 50,000 people during the NYC Marathon. Runners can be searched by name, number or team, and locations will be shown. There's also a Friend Finder function, which allows runners to be tracked throughout the race if they carry their own mobile device in their pocket during the event.