I do not know why, but it had never occurred to me to load a sports radio program into my iPhone. Now I actually have several radio apps, all part of my iTunes package, but I do not listen to them as I have so much music also loaded on the phone. I guess sports radio to me is something I listen to my car or at my desk, since both environments that are better suited for different broadcast modes.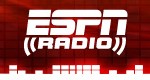 However I noticed that ESPN has released a new version of its iPhone radio app, namely ESPN Radio 3.0, technically it is v3.2.106, and so I decided to kick the tires, so to speak. Oddly enough getting to the app was not quite as easy as most, probably because of the roundabout method I followed. My iTunes app was set for search when I opened it so all I did was type in ESPN Radio. Unfortunately it gave me dozens of ESPN podcasts. So I typed in ESPN Radio 3.0 and I got an ESPN FIFA app. When I used my computer I found it instantly.
The $2.99 app has some specific target markets, and I noticed in the comments sections people complained about not getting a variety of live game broadcasts, however it should be noted that while it does provide some live sports action, it is very focused.
The program, good for both iPhones and iPod Touch devices provides a variety of streaming radio from over two dozen ESPN affiliated stations around the nation as well as ESPN Deportes and ESPN Radio Network feeds. Also included is 35 different ESPN podcasts. (There are also versions of the app for Android phones and BlackBerry devices; didn't try them but guessing they have similar capabilities.)
Several areas stand out to me from the app including the live radio programming carrying ESPN standards such as Mike & Mike in the Morning, The Heard with Colin Cowherd, The Scott Van Pelt Show and others. Another is that it will carry live all of the college football games that ESPN broadcasts, something that I could not test at this time.
Other features include up to the minute scores and the ability to text message and call-in directly to ESPN Radio and ESPN affiliate station. The app includes a nice degree of customization including adding favorite stations and programs and a feature called myESPN that provides what ESPN calls customized audio of your selected teams which will be pulled into the app and it has searchable audio for specific clips broken down by a variety of categories including team and player.
It has the ability to run in the background so that you can use your iPhone for other tasks, but a volume control would be appreciated. I found that the radio shows and podcasts were easy to find and run. I did not encounter any breakups or dropping of programs when I tested the app but I am sure that it happens since it also happens with calls and other apps I have used in the past that require live streaming.
The app seems best suited for a variety of fans including those who want to listen to a different city's sports radio and ones that want to hear a specific football game that is on the air, but possibly not in their area or they cannot get to the television to watch.
On a side note for fans of ESPN's various radio programs it looks like both Mike Greenberg of the Mike and Mike show could be getting his own sitcom based on his book "My Wife Thinks I'm an Idiot," which will give two ESPN personalities shows, as Colin Cowherd also has one in the works.