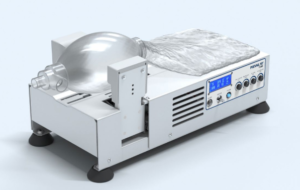 JMA, a company best known in the stadium-wireless industry for its telecommunications gear, has led a joint effort to build an "emergency" ventilation system for Covid-19 patient treatment, using existing medical equipment that is then married to "a unique mechanical apparatus" that can help keep patients breathing until they can be transferred to more robust ventilator.
With headquarters in Liverpool, N.Y., located near Syracuse in upstate New York, JMA said it led a joint effort to develop the design and manufacture of an emergency, mechanical ventilation system. Called PREVAIL NY, for "Pandemic Response Emergency Ventilation Assembled In Liverpool, New York," the project includes Dr. John Callahan, a physician of internal medicine, and Syracuse University, according to a JMA press release.
Given the prevailing shortage of ventilators for Covid-19 treatment, it seems like even a device that provides temporary help could be incredibly useful. Here is the lead explanatory paragraph from a paper JMA has posted about the system:
The PREVAIL NY device is a robust mechanical system mated to an FDA-approved ventilatory circuit. The PREVAIL NY system is a mechanically-actuated ventilation device based on a conventional bag valve mask (BVM) that is connected in-line to an endotracheal tube (ETT).This device is designed to provide controlled minute ventilation to an intubated patient utilizing standard FDA-approved components mated to the PREVAIL NY mechanicalapparatus. This design is not intended to replace an FDA-approved ventilator; rather, it is intended to act as a rescue device with an indication for providing emergency ventilation.
Until we can talk to JMA further, some more basic info from the press release:
PREVAIL NY is designed to augment the existing ventilator supply in the short term when no other traditional U.S. Food and Drug Administration (FDA)-approved ventilation options are available, providing key basic ventilation functions to relieve doctors of the need to make life-and-death decisions due to ventilator shortages.
According to JMA, the company has submitted an application to the FDA seeking approval for emergency use of the device. The PREVAIL NYC LLC set up by JMA and its partners was formed to facilitate manufacture of the device, the design of which is also available as an open-source project.
"The team is ready to jump-start manufacturing here in New York state, and devices can also be built at our facility in Bologna, Italy, for their local needs," said John Mezzalingua, CEO and founder of JMA, in the prepared statement.
"This emergency ventilation system takes advantage of existing medical equipment and marries it to a unique mechanical apparatus," said Dr. Callahan, also in the prepared statement. "I am excited about its familiarity to physicians around the world and that it has many of the same technical components that are common to existing ventilators. I am amazed by its creation in only 10 days."