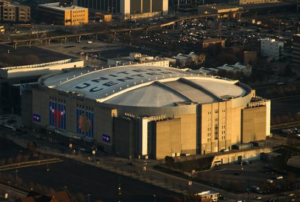 It seems like many venues are already stepping up to assist with the public battle against the coronavirus, something we wondered about in an editorial on Monday. In Chicago, the United Center — home of the NHL's Blackhawks and NBA's Bulls — will act as a logistics hub for first responders and for food distribution.
According to a post on the United Center site, "Our arena and outside campus will be transformed into a logistics hub where we will be assisting front line food distribution, first responder staging and the collection of critically needed medical supplies."
Minutes after we posted this, saw another item: Rocket Mortgage Fieldhouse in Cleveland will be hosting a blood drive on Friday.
Any other venues doing anything similar? Let us know if you know and we will add to the list.
Our arena and outside campus will be transformed into a logistics hub where we will be assisting front line food distribution, first responder staging and the collection of critically needed medical supplies.

For updated info, please visit: https://t.co/zqaVAtWV17 pic.twitter.com/i88Yx34St5

— United Center (@UnitedCenter) March 25, 2020