NBC Sports Radio, airing on 178 radio stations nationwide as well as streaming on www.nbcsportsradio.com, debuted Sept. 4 and is featuring a diverse selection of programs.
Programming will be distributed by Dial Global and content will include hourly sports news updates, daily features as well as long-form shows.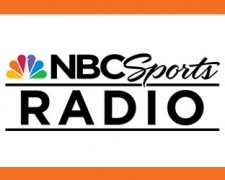 The NBC Sports Radio roster includes:
The Erik Kuselias Show, Monday-Friday 7-10pm, ET;
Amani and Eytan, Monday-Friday 10pm-1am, ET: featuring former NFL pro Amani Toomer and Eytan Shander;
The Dan Schwartzman Show, Tuesday-Saturday 1am-5am, ET;
Safety Blitz with Rodney Harrison, a two-hour weekend show featuring former NFL All-Pro Rodney Harrison;
24/7 anchored national updates featuring Jon Stashower, Kay Adams and
Dan Schwartzman.
The new NBC Sports Radio is a partnership between Dial Global and the NBC Sports Group.
"This is a great day in sports radio and we're proud to have 178 affiliates share it with us," said Chris Corcoran, Executive Vice President, General Manager, Dial Global. "Our main goal from day one has been to deliver great content for radio stations and we are excited to finally hit the field and play."
Rob Simmelkjaer, Senior Vice President, NBC Sports Ventures and International, said, "We couldn't be more excited to launch the newest platform in the NBC Sports Group family. With 178 affiliates on board at launch and a great starting talent line-up, the sky is the limit for NBC Sports Radio."
A mobile applications for the network is being developed, according to a spokesperson.
James Raia is a California-based journalist who writes about sports, travel and leisure. Visit his cycling site at tourdefrancelife.com