The most prominent racing series in the United States has joined the iPhone sports world.
NASCAR, Sprint and Turner Sports have launched the sport's first official app for iPhone and iPod Touch. The NASCAR Sprint Cup Mobile App allows fans to follow their favorite drivers and keep informed on Chase for the Sprint Cup race action, including access to race day content, schedules, standings, breaking news and more.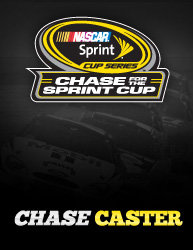 iPhone customers with a Sprint Unlimited Data Plan will have access to a vast collection of additional live features:
MRN and PRN race radio broadcasts; in-car audio for all 43 NASCAR Sprint Cup Series drivers; RaceBuddy in-car video and track camera views; NASCAR on SPEED broadcasts including live Qualifying, Practice and favorite trackside shows such as NASCAR RaceDay; In-race highlights and alerts, Post-race press conferences; Real-time leaderboards and Pit Pass telemetry data.
"Fan engagement during the Chase for the NASCAR Sprint Cup is significantly elevated each and every season as the championship battle unfolds and ultimately culminates at Homestead-Miami Speedway in November," said Marc Jenkins, NASCAR vice president of digital media. "With NASCAR Sprint Cup Mobile now available for the iPhone for the first time ever, fans will get a customized experience, bringing them closer to the racing action than ever before."
The popular NASCAR Sprint Cup Mobile App provides fans with 24/7 access to all things NASCAR. Though Sprint had previously offered a NASCAR app for Android platforms, the nation's third-largest carrier didn't start offering Apple's iPhone until late last year. Sprint will also be selling the new iPhone 5, which was announced earlier this week.
NASCAR's digital rights including NASCAR.COM, the official online destination of NASCAR which provides racing enthusiasts with an all-inclusive offering of engaging content including fantasy games, video highlights, social elements and in-depth editorial content, are currently managed by Turner Sports.
As part of a restructured partnership announced earlier this year, Turner Sports remains the exclusive sales agent across the NASCAR Digital Media platform through 2016 while NASCAR assumes operational control on Jan. 1, 2013 of its interactive, digital and social media rights and all related platforms.
This is a boon for mobile customers that might not be able to catch a race live, or are watching but want different information that that which is provided by the broadcast. Many of the features of the mobile app are ones that a television viewer would get but they now have increased flexibility to hone the information that they are getting.
The NASCAR Sprint Cup Mobile App is available free from the App Store on iPhone and iPod Touch or at www.itunes.com/appstore. NASCAR has been increasingly aggressive in pushing its brand into new areas. It launched a major Twitter push earlier this summer and has been very proactive in having drivers participate with fans via social media.
James Raia is an editor and publisher in Sacramento, California. Visit his site: www.tourdefrancelife.com