For sports fans that want to get out of London for the crowds that have gathered for the Summer Olympics but still want their live sports fix, head on over to Cambridge to catch this weekend's Spartan Race.
The popularity of the event can be seen in that even competing with one of the major sporting events of the year it has already filled 80% of available slots for the athletes, showing that they would rather compete than watch someone else do so.
Held at Bassingbourne Barracks Royston, Hertfordshire the event will be held Sunday July 29 with the first heat starting at 10 am Elite heat for the 5km race. As always the obstacles for the race are held secret until race time, which is a pity since it would be nice to get a photo or two of them in advance. Below is a look at last week's race in London.
A bonus for this event is that if you manage to dominate you can win entry into a Super Spartan event, and then you can try and dominate there!
The current Top 5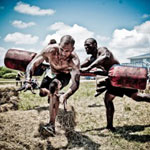 in the point series
1) Hobie Call 12,272
2) Christopher Rutz 12,257
3) David Glover 12,245
4) Shane Mckay 12,222
5) Shawn Feiock 12,213
As of the running of this piece the results from last week's events had not been posted so in the future we will post race results two weeks after the fact.