Tiger Woods is among 20 players competing in the U.S. Open at the Olympic Club this week who also played in the event the last time the tournament visited the historic course just south of San Francisco in 1998.
Woods, of course, has competed on courses around the world since. But the buzz as the opening round of the United States' 112th National Championship approaches is that few courses are as stringently set up as the 7,170-yard, par-70 Olympic Club's Lake Course.
And as the enticing threesome of Woods, Phil Mickelson and Bubba Watson prepare for the tournament's opening round Thursday, which you can watch online in HD coverage on www.usopen.com and via the U.S. Open mobile app, a lot has changed in 14 years.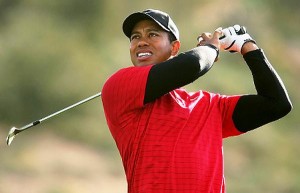 "All of the greens have obviously been redone since we were here in '98," Woods said Tuesday during a steady stream of pre-tournament press conferences. "The new chipping areas are certainly different. (I've) got to get used to some of those different shots."
Woods, the three-time U.S. Open winner who claimed his 73rd PGA Tour career victory less than two weeks ago at the Memorial, finished tied for 18th at the '98 U.S. Open.
"Well, first all my charts are all outdated because they've resurfaced every green," he said. "So I had to do a whole new book. But also I think that the new chipping areas, as I was saying earlier, are way different. We had balls that were landing on the green on 13 that were going in the hazard.  That's a big change."
But like every golfer in the field has expressed, the Lake Course layout has been designed, with the intent, according to the USGA, " . . . To make the U.S. Open the most rigorous, yet fair, examination of golf skills, testing all forms of shotmaking."
The USGA's course layout criteria includes 14 points, and is so detailed, golf's governing body calls it a "philosophy."
"This is a long grind," said Woods, whose last U.S. Open victory occurred at Torrey Pines near San Diego, Calif., in 2008. "We're teeing off of No. 9, so we don't get to play obviously the first six holes until it's basically our back nine.
"It's such a test playing in this championship. I think this is one of those championships that I think the guys talk the least to one another because it's so difficult. Every shot is — there's no shot you can take off, so to speak. Sometimes, say you're playing St. Andrews, and you go ahead and wail away . . . no big deal. But here there's such a premium on positioning the golf ball."
Woods also cited the layout's oddities. Holes No. 1 and 17, while playing to the same distance, are respectively a par 4 and par 5. And then there's the 670-yard 16th — the longest hole ever in the U.S. Open history.
And as other golfers and media broadcast analysts have suggested, holes No. 1 through 6, which Woods, Mickelson and Watson will play to finish their opening round, are likely the keys to a successful or non-successful round.
"I think that the first six, if you play them for four straight days even par, you're going to be picking up just a boat load of shots," said Woods, summarizing the consensus of the course overall, "They're just difficult."