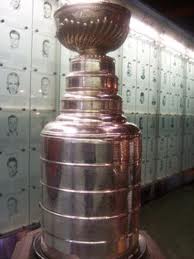 I think everybody knows at least one sports fan that is always claiming that they were at any number of prestigious events, but oddly never seems to have the ticket stub or any other evidence. Well if you are attending the Stanley Cup Finals in the upcoming days you will have a unique way to prove you were there.
A second round of the NHL FanCam presented by Ticketmaster will make its appearance for both games 1 and 3 that will be played on May 30 and June 4 respectively. It is as simple as it is high tech, but you have to be in your seat at the right time. The first time the NFL broke out the FanCam was earlier this year for the 2012 NHL All-Star Game in Ottawa.
The FanCam takes a high-definition, 360 degree photo of the inside of the arena. All a fan has to do is find their image in the photo at the FanCam website, and any friends that might be along for the games as well. You then 'tag' yourself and you can share it with friends via email, Twitter and Facebook. Proof for everyone to see and believe!
The NHL is also using the FanCam to engage fans in another way. It is holding a contest called Hunt for the Cup in which fans can search for a picture of the Stanley Cup that will be in the FanCam and posted at the website. The advantage to this is that for the unfortunate fans that cannot attend the Stanley Cup Finals they may still participate in this event.
All of the fans that find the cup are entered into a drawing for a chance to win two tickets to the 2013 Bridgestone NHL WinterClassic, two roundtrip airfare tickets, two New Year's Eve Party passes,
as well as transportation, accommodations and fan apparel for the event. This sweepstakes is open to US and Canadian citizens 21 years or older and the sweepstakes closes July 31.
This is an interesting use of this type of technology and much better than the relatively static approach of just showing fans in the stands so that they can cheer for themselves. By using a bit of high technology and a simple approach it can really engage fans into visiting the web site. By creating a contest that fans that cannot attend the games the NHL helps expand the experience for them as well.