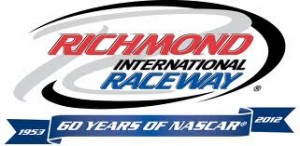 Last week's run in Kansas resulted in a nice win by Denny Hamlin, his second of the year by passing Martin Truex Jr. on the 31st to last lap and then hanging on for the checkered flag. Truex hung on for second while the rest of the top five was filled out by Jimmie Johnson and Greg Biffle.
Who would have believed that a little sunlight had that much of an effect on the race? For most of the race Truex was dominating in the cloudy weather and then as the conditions changed with the arrival of late afternoon sun, his car started performing poorly, becoming very loose while Hamlin's #11 car had the exact opposite experience. Well they are once again under the lights this week.
Sprint Cup Standings
1) Greg Biffle
2) Martin Truex Jr. -15
3) Matt Kenseth -17
4) Dale Earnhardt Jr. -21
5) Denny Hamlin -23
The Track
This week they are running at Richmond International Raceway in the Capitol City 400 Presented by Virginia is for Lovers, a race that marks the 60th anniversary of racing at the RIR. The track is a ¾ mile D shaped oval.
Broadcast
Coverage begins at 7 pm ET on Fox
Twitter feeds
@RISinsider- Tracks official Twitter feed
@NASCAR-Official NASCAR feed
@NationwideNNS-Nationwide Official Twitter
@NASCAR_NNS-NASCAR Nationwide feed
@NASCARONFOX-Fox Sports feed
@AllWaltrip-3 Time NASCAR Champ and Fox announcer
@PRNLive-Performance Racing Network
@EdHintonESPN-ESPN Columnist Ed Hinton
Nationwide Series
The Nationwide Series also returns to the lights, this time on Friday night with the running of the Virginia 529 College Savings 250. The highlight of the race could be the debut of Travis Pastrana, at least he has been heavily touted by ESPN, which maybe not coincidentally is broadcasting the race.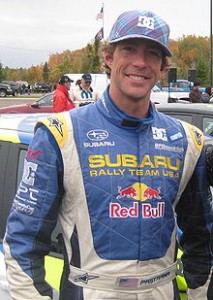 Still he has taken an interesting road to get a car in Nationwide. He has been a winner at a variety of other tangentially related sports including supercross, motorcross, freestyle motorcross and rally racing.
He formed a partnership with Michael Waltrip to form the Pastrana-Waltrip Racing. He was originally expected to start racing last year but after one race was injured in an accident in the X-Games which put off his racing efforts until this year. It will be interesting to see how well he does and if his X-Games following will cross over to NASCAR. Anybody want to make a prediction?
Broadcast
Friday 7 pm ET ESPN 2
Nationwide Series Standings
1) Elliott Sadler
2) Ricky Stenhouse Jr -4
3) Austin Dillon -20
4) Sam Hornish Jr. -54
5) Michael Annett -64

Video of the week
Brad Keselowski is rapidly becoming my favorite racing personality. First he sends an in-track Twitter of an exploding race car and now I find this. He has a series of Q&As on YouTube that are just silly but well worth viewing, especially if you just need to perk up your day.