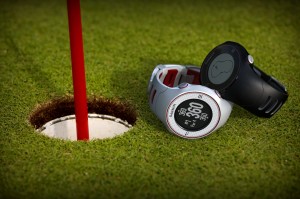 OK, so you are not playing the course but Garmin International has timed the release of its latest golf watch, the Approach S3 a touchscreen golf watch, to capitalize on the desire to golf that the Masters Tournament seems to inspire in players year after year.
The sleek looking entrant comes at a time when golf watches are increasingly adding a host of features that just a few years ago golfers would have given their pitching wedge for and this offering shines with the best of the them from the looks of it.
The Approach S3 touchscreen GPS golf watch comes with 27,000 courses from around the globe preloaded so that walking onto a new course a golfer always has information at their fingertips. There is no fee or subscription for this feature and it includes course updates as they are available.
One of the overriding uses for the watch is as a virtual caddie and it has a host of features that help a golfer from a downloadable scorecard to a round timer for slower players to more specialized features. One of these is called Green View that shows the shape and layout of the greens, with the ability for the user to drag the pin to match that day's location.
Other key capabilities include Layup Distances that include distances needed for doglegs and hazards; Precise Yardage for front, middle and back of green distances; and it has the ability to measure shot distances.
The watch is waterproof, which s good if your game resembles mine, and it supports an 8 hour charge for game play but four days as an everyday watch. A small charging cradle is included. The Approach S3 is expected to be available in April 2012 and will have a suggested retail price of $349.99.
The release is two weeks or so after Motorola Mobility released the next generation of its MotoActv family with a golf edition watch, the MotoActv Golf Edition. However Garmin has been in this game for a while and has a well respected track record so Motorola and others that are entering the field will need to show that they are not just as good as Garmin but have features that will differentiate their offerings.
I expect that with the increasing ability to cram a huge about of data into a small form factor such as a watch the features in this space will likely continue to grow, something that will put pressure on developers but will likely make the chance of breaking par a bit easier- if only you can get that hitch out of your swing.