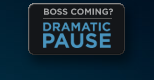 Gotta admit — the folks at TNT have a little bit of humor skills. I like the "Boss Coming? DRAMATIC PAUSE" button which appears when you are watching NCAA Hoops online.
It gives you a mock spreadsheet which upon close review isn't fooling anyone:

Of course, I am not sure whose employer even cares anymore. At MSR, having games on or watching on mobile platforms is "work." And this morning I stopped by the offices of Bleacher Report, where there are something like 27 flat screens and today there was a food truck and cold beer.
But thanks TNT, for those folks who still have a misguided overlord overlooking their shoulder.