Imagine a Super Bowl Sunday in the near future. You are sitting in the stands with 70,000 or more hardcore fans. Your team's star wide receiver goes into the slot. On your smartphone, a betting proposition comes up. Do you take three-to-one odds that there will be a completion to your team's stud?
The technology is already available to make that experience a reality, and the future of the $2.76 billion legal sports betting industry in the United States may depend it becoming a reality, according to a Sunday August 28 report in the Las Vegas Review-Journal.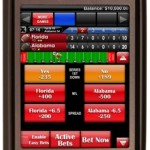 Already, smartphones are being used in Nevada to make the sports experience better for fans. Cantor Fitzgerald, a Wall Street investment firm that was devastated by the 9-11 attacks, has taken over the sports books of The Cosmopolitan of Las Vegas, The Palm and a host of other casinos. It uses the same technology it uses manage Wall Street hedge funds to provide "in-running" betting services to customers with smart phones, offering proposition betting throughout the game. The only reason "in-running" is not offered to your smart phone, unless you are in the State of Nevada, is because state and federal laws prohibit it. Global Positioning Systems are used to detect whether consumers are attempting "in-running" bets, and someone straddling the state line between California and Nevada, Utah and Nevada, Arizona and Nevada and Oregon and Nevada, can literally see their bet go through or be declined depending on whether they move six meters inside the State of Nevada or move into a state where the practice is banned.
Las Vegas-based American Wagering, which already produces BlackBerry, Android and iPhone betting applications is currently developing similar technology for iPad and Android tablet, the Review-Journal said. And U.K.-based William Hill recently shelled out $53 million to acquire American Wagering and Club Cal Neva Satellite Race and Sports Division, bringing a company known for pushing for reform in gaming regulations to the United States sports gambling scene.
Write your Congressman.