From Gillette Stadium, home of the NFL's New England Patriots, to Dodger Stadium and Disneyland in Southern California, the wide-open indoor spaces and easy drive-up and parking lots found at most large public venues are now being used as staging grounds for initial deployments of the vaccines being used to fight the spread of the pandemic.
According to various reports, vaccination sites at stadiums are ramping up with plans to innoculate thousands per day. State Farm Stadium in Glendale, Ariz., home of the NFL's Arizona Cardinals, expects to soon be administering more than 6,000 shots per day, according to an NPR report. According to a report in USA Today, Houston's Minute Maid Park saw 4,000 vaccinations last weekend.
Other well-known venues also looking to ramp up vaccination sites or already providing such services include PNC Park in Pittsburgh, Petco Park in San Diego and the Oakland Coliseum. In New York, Mayor Bill de Blasio said that Citi Field — home of the New York Mets — will soon be able to vaccinate between 5,000 and 7,000 residents per day.
Already during the pandemic, sports venues across the country have used their unique characteristics — easy access and wide-open covered spaces with the ability to host large numbers of people with social distancing — to act as temporary Covid-19 test centers or overflow hospitals, and also as voting registration and voting sites. Those same characteristics, plus the availability of power, running water and other amenities, also makes them perfect sites for pop-up vaccination centers, which will be necessary as the country tries to get as many people vaccinated as possible in the shortest amount of time.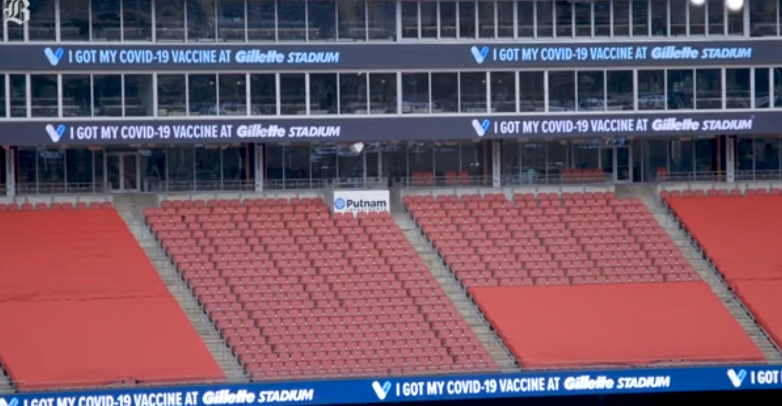 Ribbon boards at Gillette Stadium tout the vaccination services. Credit: Boston Globe video screenshot

While fans are still not allowed to attend events at most stadiums in the U.S., sports venues across the country are now being pressed into service as mass vaccination sites in the latest step in the battle against the coronavirus pandemic.