To the surprise of only those who have no access to the Internet Apple's event at its Cupertino, Calif. headquarters resulted in the first multiproduct offering in the popular iPhone family, with a lower cost model to tag along with the latest high end offering.
This was of course just part of the event as Apple never allows a major event to pass by without discussing the current state of the business and discussing a host of other products either here today or on the very close horizon.
One of the key areas is the next iteration of its operating system, iOS 7. It will have better search features, a more interactive calendar, more active reminders, iTunes Radio and approximately 200 new features in the OS that the company plans to launch September 18.
The first of the two new phones introduced is the iPhone 5C, which will be available in white, red, yellow, blue and green. The phone, Apple's first low cost offering, is powered by an internally designed A6 processor and will start at $99 with 16GB of storage and a two year contract. It will jump to $199 with a 32GB. A case will be available for $29. It appears to be basically an iPhone 5 in a lower costing case.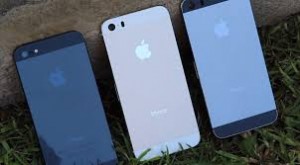 The second offering is the iPhone 5S, available in gold, silver and space gray and it will be the first from the company with a 64-bit A7 processor. The new iOS 7 and all existing apps should be capable of running on the 64-bit processor. A key technology is the M7 processor (different from the A7) that is being called a motion coprocessor and uses the phones sensors such as its accelerometer and should enable a new generation of sports apps.
As expected it has a fingerprint sensor as an additional level of security, and can be used with either hand or which can unlock the phone and perform a few other functions. Other new features include an improved camera and new lens and a new home button.A 16GB version will be available, with a 2 year contract, for $199. Both phones will be available September 20th.
An interesting move by the company is that it will not be lowering the price of the existing offering, the iPhone 5, as it has always done in the past when it released a new model, but instead will simply replace it with the two new models. Apple said that next month it will ship its 700 millionth iOS device with over 380 million iPhones
What was not here
While Apple pleased some and undoubtedly disappointed others with its two new phones there was a phone that was not here that received a good deal of attention as well, and that is one with an even larger screen. Earlier in the year it had been rumored that the company would join the growing phablet space offering a device that is both a phone and a small form tablet, possibly with a 6-inch screen.
New iPad and iPad mini are expected later this year so that fans wanting new tablet updates to match their new phones will probably not have too long to wait.