If you are fortunate enough to be in London for this year's Summer Olympics the London Underground, its subway system, is a pretty efficient means to get around, and much easier than trying to drive yourself, as I have found from past experience.
However if you have been there before you might find one thing different than in the past; the city has renamed 361 stations after celebrated Olympic athletes, some going back to the founding of the modern Olympics.
This is a very nice way to remind people of some of the greats that have paved the way for the games that we will be seeing this year. A number of top American athletes are represented around the city including Michael Phelps, who will be participating again this year and has the honor of the main Olympics' stop along with Cassius Clay. Other US athletes honored include Jesse Owens, Carl Lewis, Bob Hayes and a number of others.
The Transport for London released the Underground Olympic Legends Map focuses primarily on Gold Medal winners but not exclusively. It also has a few famous defeated athletes sprinkled in as well as as some notable ones that never participated.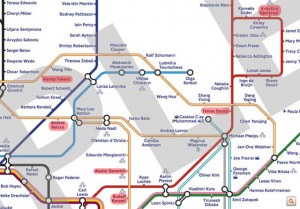 I have to give a shout out to a Hungarian friend who pointed out this tribute as he was notably proud of the fact that his country was represented by 13 athletes.
Three-time gold medal winner water polo players: Gyarmati and Karpati (1952-1964)
Three time gold medal winner boxer: Laszlo Papp (1948-1956)
"Million times" gold medal winner fencers: Gerevich and Karpati (1932-1960!!!)
Five times gold medal winner swimmer: Kristina Egerszegi (1988-1996)
Four times gold medal winner swimmer: Tamas Darnyi (1992-1996)
Three-times gold-medal winner legendary pentathlon champion: Balczo (1960-1972)
Legendary rapid-pistol champion (who changed hand after an accident):Karoly Takacs (1948-1952)
And finally: Four members of the 1952 Gold medalist Hungarian soccer team: Puskas, Kocsis, Bozsik and Czibor.
I found it interesting to try and name the countries for all of the athletes and failed miserably, I will not even mention how few I actually got correct. You can try and even buy a copy of the map here.