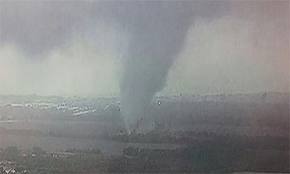 While preparing for last night's exhibition game against the Mexican City Diablos Rojos, Texas Rangers bullpen catcher Zach Zaneski caught a bit more than he expected- a video of the effect that the numerous tornadoes that swept through Dallas leaving a trail of destruction in their wake.
The video then went worldwide when regular catcher Mike Napoli tweeted a version of the video which showed the impact the storm was having at the pall park including the wind and rain driving a tarp across the field.
The weather service reported that there was anywhere from six to 12 tornadoes that set down in the North Texas area around Dallas with a pair of them sweeping through the city, tossing big rigs around and destroying most everything in their path.
Even with all of the destruction and parts of the city recovering the teams went on to play the game with the Rangers beating the Diablos Rojos 14-3. Here is a set of videos including the one from Zaneski showing the storms impact in the city.