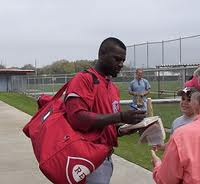 Baseball managers from Little League to the major leagues often warn their players about the dangers of distractions and how it will impact their performance on the field-the only thing that matters to a manager.
Well the Cincinnati Reds' All-Star second baseman Brandon Phillips claims that Twitter (@DatDudeBP) is not only not a distraction, but that his heavy use of it has helped his game last season. For the record last year he hit .300, scored 94 runs and had 82 runs batted in and won a Silver Slugger award..
Phillips said on the Jim Rome show that the technology helped him both personally with all of the positive feedback and with an effort by himself to only say positive things on his feed. But he even found that the haters, ones who said that he would not accomplish anything helped to motivate him to remain focused on the field.
From the sound clip that is linked it is obvious that he enjoys the interaction with fans and that it has helped him open up to fans, and it has led to him providing his own giveaways at the ballpark.
On the flip side there is always Tim McCarver, the Fox Sports baseball announcer who does not like any form of social media at all. In a recent interview he went so far as to say that nothing is as disturbing as social media. When not making these remarks he is presumably outside telling people to get off his lawn.
Hopefully this will be a trend that more athletes follow. A lot have engaging personalities but remain distant from fans for a huge variety of reasons, including 'haters' as Phillips said. This allows them to reach out and really develop new bonds for fans and athletes both on and off teams that they root for.