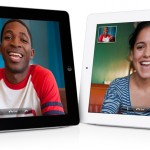 (by Gregger)
Apple Computer brought out its eagerly awaited iPad 2 and has followed its recent past by increasing the functionality of a second generation device while at the same time slimming down the profile of the platform. Without going too far out on a limb, it's a safe bet that the new version of the most-popular tablet computer will be a favorite among sports fans who want a decent-size screen for mobile sports viewing.
While the release of the original iPad garnered a good deal of derision from people, making fun of its name and questioning whether it met the needs of any class of users aside from devoted fans of Apple Computer, its soaring sales have proven detractors wrong. Apple claims that 65,000 apps have been written for the platform and while the company has not announced sales figures for its first generation device estimates put it around 14 million. Estimates for future sales keep increasing on almost a daily basis and are now in the hundreds of millions within the next few years.
Now the second generation is available and Apple is following the same game plan it has used with both its notebook computers and its iPhone, slimmer, faster and lighter. Of course it does not stop there with a number of enhancements as well.
The iPad2 is expected to be twice as fast as its predecessor with a dual-core A-5 processor, compared to the earlier versions' A4 processor. On top of this is enhanced graphics performance that the company said was 9x faster than its previous ability in some applications, but the screen resolution will remain at 1024 x 768 with a 9.7-inch screen. It will maintain its 10 hour battery life.
It includes dual cameras, one front-facing and one facing the rear. The iPad 2 will be lighter at 1.3lbs compared to 1.5lbs and thinner, at 8.8mm compared to 13.4mm, a 33 percent reduction and includes tapered edges and a flat back. One additional option is the Smart Cover. The cover is designed to attach to the iPad 2 via magnets and can be folded down to cover the screen. It is available in an array of colors and will wake the iPad 2 when you open it, and put the iPad 2 to sleep when you close it. The cover will be priced at $39 for the polyurethane version and $69 for the leather version. There is a $39 adapter that connects an iPad 2 (or iPad or iPhone 4) to an HDTV and duplicates what is on the device screen on the TV screen.
The iPad 2 will be available in black and a new optional white version. Shipping now (while available) it is priced at $499 with a trio of storage capacities available, 16GB, 32GB, 64GB, with each storage option $100 more expensive that the previous model. The first generation offerings will be available, while supplies last, at a $100 discount.
The iPad 2 does not require a cellular connectivity contract and can be purchased in a Wi-Fi only version, and a choice of Verizon or AT&T for cellular, with rates varying by the amount of data you expect to use.