Welcome new readers to Mobile Sports Report (MSR), the premier site for news and analysis of stadium technology, including Wi-Fi, DAS, Digital Signage, CRM, and Sports Social Media. This is part of our charter to aggressively cover the intersection of mobile technologies and sports in an unbiased, editorial fashion.
What does Mobile Sports mean? In an age when just about every pro athlete is on Twitter and just about everyone has a cell phone with Internet access, sports fans are closer to the action than they ever have been before. But even as fans log in to social/mobile sports sites by the millions, and use their devices for information at stadiums, figuring out how to make this new relationship successful for teams, schools, vendors advertisers and broadcasters is still a work in progress.
That's where Mobile Sports Report comes in — to help identify the new entrants and new business models, and to find winners, losers and interesting stories along the way. For teams and schools trying to make sense of the social/mobile/local phenomenon, to the vendors, application developers and marketers in the space, Mobile Sports Report is a must-read destination.
Mobile Sports Report is the latest offering from Sidecut Productions, creators of the well-known and highly regarded Sidecut Reports wireless industry analyst and research site. Led by Paul Kapustka, editor and founder of Sidecut Reports, Mobile Sports Report is an independent, editorially focused publication that uses traditional journalistic methods to break stories, offer informed takes and reflect on trends at the intersection of mobile technology, social media and sports.
Bookmark this site and get ready for the mobile sports revolution! We'll be there to provide you with a front-row seat.
MSR STAFF
PAUL KAPUSTKA, Editor in Chief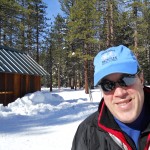 Long before he started his own wireless-industry analysis site, Paul Kapustka was a sports writer for the Boulder (Colo.) Daily Camera, where he covered everything from Super Bowls to neighborhood 5k races. Mobile Sports Report is the ultimate combination of Kapustka's knowledge and excitement for sports and mobile technology. Mostly it is an excuse to expense the bill for watching NFL games on a phone. A longer and perhaps more serious bio can be found at this link. A Chicago native, Kapustka follows da Bears, da Hawks, da Bulls and da Cubs from sunny San Mateo, Calif. In Theo we trust!
KEITH NEWMAN, Special Projects Editor
A former executive with UBM Media (CRN), IDG and Ziff-Davis, Keith has been a consultant to Cisco, Gartner, Microsoft, and numerous other tech enterprises, while also almost singlehandedly ensuring that the Old Pro sports bar in Palo Alto doesn't go out of business.
GREG QUICK, Senior Editor
Greg has been a reporter for over 20 years covering a variety of high tech companies, technologies and market trends. Starting with Apple he has covered heavyweights and startups as well as following trends in mobile communications and computing. An avid sports fan he has had season tickets with NFL, MLB and NHL teams and attended sporting events in across the country as well as a poorly chosen soccer match in Scotland.
JAMES RAIA, Contributing Editor
JOHN EVAN FROOK, Editor Emeritus
John Evan Frook has reported on sports, entertainment and technology for the Reno Gazette-Journal, Los Angeles Business Journal, Los Angeles Daily News, New York Times Syndicate, Variety, Daily Variety, Interactive Age, Interactive Age Digital Daily, Communications Week, Internet Week, Business Marketing and BtoBOnline.com. He's an expert in electronic commerce, Web analytics, Google Panda 2.0 Search Engine Optimization and social media. If you are watching a professional sporting event on network television and also interacting with the game on a mobile device, you are not alone: John probably is too. He lives in Reno, Nevada.
Advertise with MSR
Looking to bring your brand to the insider audience for the intersection of mobile, social and sports? Mobile Sports Report is pleased to announce our charter sponsor program, which can be tailored to fit the needs of teams, developers and manufacturers who want to reach out to the greater mobile/social/sports marketplace.
In addition to traditional banner and box ads, Mobile Sports Report can also help you bring more attention to your brand via a variety of rich-media offerings, including sponsor microsites, email newsletters and sponsored e-reports.
To learn more about how MSR can help your company reach our audience, send an email to: Paul Kapustka, editor.