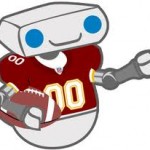 StatSheet, the robotic sports news service that provides stories and stats as they happen, jumped ahead of the National Football League today by releasing ranks and grades that show how each player performed on a game-by-game basis.
In its selections, StatSheet demonstrated statistically that Denver Broncos phenom QB Tim Tebow is nowhere near qualified to play in the game in Hawaii.
The complete list of StatSheet selections at the key offensive positions appears at the bottom of this blog post.
The NFL is scheduled to release its All-Pro selections later today.
StatSheet's All-Pro team was created by Joe Procopio — the StatSheet team member most responsible for promoting StatSheet, and developing its community. The listing is branded by StatSheet as the NFL All-StatSheet Team. Mobile sports fans can expect to see this grow into an annual event, as StatSheet works to become a trusted source for fast and accurate sports information .
StatSheet works differently than ESPN, CBS Sports, Yahoo Sports and most competitors. It draws in-depth information from all available sources of real-time sports information, and assembles it into automated sports stories, drill-down statistics and graphics. Sports is the first subject interested StatSheet's parent company is tackling, but it is likely to eventually compete or partner in financial services with such companies as Bloomberg.
Here is StatSheet's 2011 All-Pro team:
Quarterback
AFC
Tom Brady
New England Patriots
100+ points = A+
4,897 yards, 36 TD, 11 INT
Matt Schaub
Houston Texans
90.0 points = A-
2,479 yards, 15 TD, 6 INT
Injury Replacement
Philip Rivers
San Diego Chargers
87.0 points = B+
4,314 yards, 24 TD, 19 INT
NFC
Aaron Rodgers
Green Bay Packers
100+ points = A+
4,643 yards, 45 TD, 6 INT
Drew Brees
New Orleans Saints
100+ points = A+
5,087 yards, 41 TD, 13 INT
Running Back
AFC
Fred Jackson
Buffalo Bills
100+ points = A+
934 yards, 6 TD
Maurice Jones-Drew
Jacksonville Jaguars
100+ points = A+
1,437 yards, 8 TD
Injury Replacement
Arian Foster
Houston Texans
100+ points = A+
1224 yards, 10 TD
NFC
LeSean McCoy
Philadelphia Eagles
100+ points = A+
1,309 yards, 17 TD
Matt Forte
Chicago Bears
94.1+ points = A
997 yards, 3 TD
Injury Replacement
Skipping over Jahvid Best, Detroit Lions, 94.1/A and Adrian Peterson, Minnesota Vikings, 91.3/A-
Marshawn Lynch
Seattle Seahawks
91.1 points = A-
1,118 yards, 12 TD
Wide Receiver
AFC
Wes Welker
New England Patriots
100+ points = A+
1,518 yards, 9 TD
Mike Wallace
Pittsburgh Steelers
94.9 points = A
1,182 yards, 8 TD
NFC
Calvin Johnson
Detroit Lions
100+ points = A+
1,437 yards, 15 TD
Victor Cruz
New York Giants
97.1+ points = A+
1,358 yards, 8 TD
Tight End
AFC
Rob Gronkowski
New England Patriots
100+ points = A+
1,219 yards, 15 TD
Aaron Hernandez
New England Patriots
99.3 points = A+
772 yards, 6 TD
NFC
Jimmy Graham
New Orleans Saints
100+ points = A+
1,213 yards, 10 TD
Tony Gonzalez
Atlanta Falcons
97.6 points = A+
867 yards, 7 TD