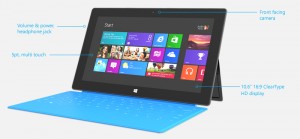 In dueling releases a few hours apart Microsoft first took the wraps off of its latest operating system, Windows 8, and then off of its Surface tablet family that will be some of the first hardware that will run the OS.
The operating system rollout is one of the biggest from Microsoft in a while as it is aimed at moving the company in a new direction, away from being viewed as primarily one for desktops and laptops but also a provider for the growing mobile/digital environment.
Microsoft CEO Steve Ballmer talked up the new OS at the company's event in New York and noted that Microsoft has brought together the best of two worlds, PCs and tablets. He also mentioned that the company has reworked a good deal of its existing apps and other technologies to work with Windows 8 from its MSN.com website to new products that are just now being released.
Microsoft expects that there will be approximately a combined 400 million Windows 8 phones, tablets and PCs in a year, which it will need as the company faces an uphill battle currently getting app developers to create for its platform first, and sometimes at all.
Windows 8 will be available for download to upgrade existing PCs in more than 140 markets and 37 languages starting tomorrow. For most users there will be three different versions to choose from, one Windows RT, ,designed specifically for tablets that run ARM-based microprocessors Then there will be the more mainstream Windows 8 and Windows 8 Pro.
Also available tomorrow will be its Surface tablet, and it is marketing it as more than a tablet, but also as a type of laptop and I think that is a good tool to both help differentiate it from Apple's iPad but also could help open the door to wider acceptance in businesses as a replacement technology for existing PCs.
There will be two basic versions of the Surface tablet– those that run Windows RT and those that run Windows 8 Pro. Aside from that it is basically the same system. For the RT version It will weigh in at 1.5lbs and have a 10.6-inch display that has 1366 x 768 resolution. Powered by an Nvidia Tegra 3 core it will have 2GB RAM and be available with either 32GBs or 64GBs of storage.
There are two 720p HD LifeCams, one front and one rear facing; it will have Bluetooth and Wi-Fi connectivity as well as a USB 2.0 port. The Windows Pro version weights a bit more at two pounds and will have a choice between 64GB and 128GB storage and this tablet is powered by Intel's Core i5 processor. It has a USB 3.0 port. The RT version will be available tomorrow at $499 while the Windows Pro will have pricing and availability announced at a future date.