Football fans upset with the limited or poor reception capabilities of their smartphones at football venues might want to take a look at FanVision and its mobile broadcast offerings. While currently only available in a limited number of venues the technology has the potential to save you from the frustration of using your phone as well allow you to see plays that you might have missed.
Available in only 12 NFL stadiums, as well as for Formula 1 racing and the University of Michigan football games it offers fans a number of viewing options and additional features. FanVision Entertainment, which started life as Kangaroo TV in 2003 the company claims that it has so far attended 170 live events in 20 nations including PGA and NASCAR events.
Designed for use in the stadium where the attendee is watching the game FanVision provides a handheld device that features a 4.3-inch display and it claims that it has a six hour battery life. It provides live coverage of the game with multiple camera angles, and has instant replay from multiple angles. There are also custom highlight reels as well as player and team stats and bios .It provides live audio from the local announcing team and in select out of market games it also provides the national radio feed.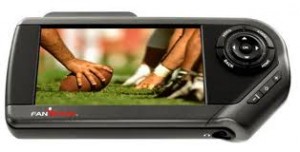 There are a total of ten channels and among the other content is the NFL Red Zone, a cheerleader cam, the network telecast of the local game and live fantasy football updates. The NFL teams covered are Arizona, Buffalo, Chicago, Cleveland, Denver, Minnesota, Miami, New York Jets, Philadelphia, Seattle, St. Louis and Washington D.C.
FanVision has developed a system that avoids the reception issue by putting the broadcast gear in the stadium with equipment at both ends of the stadium and elsewhere and claims that it can reach everywhere in the entire facility. As many fans know, despite having five bars or a strong signal does not ensure that you will be able to make a connection to a network with your phone for uploading, downloading text, email, and video or for any possible purpose.
Since it is offered at a limited number of NFL stadiums currently, and not any that I have attended in the last few year, I have not seen it in action but the premise looks solid and it gets generally positive to very positive reviews. It is not a perfect system according to the reviews but the flaws seem minor compared to the advantages that it brings and I could see buying one if I had a still had season tickets at a stadium it is offered in or rent one if available at a game I am going to attend, now I will not miss the action while in the beer line!
Rental of the devices is $19.99 per game while purchasing the device costs $199 for the remainder of the current season. The full-season price is $249.