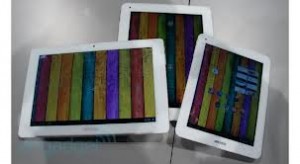 Archos has beaten the World Mobile Congress crowd to the starting line by introducing a trio of tablets prior to the show as it has taken the wraps off of its Platinum lineup that will have tablets that range in size from 8-inches to 11.6-inches.
The three tablets start with the Archos 80 Platinum, an 8-inch model, the Archos 97 Platinum that is a 9.7-inch device and the Archos 116 Platinum that is a 11.6-inch tablet. All three share many f the same internal features.
All of them will run the Android 4.1 operating system and will be powered by a 1.2GHz quad core processor and feature a 8-core GPU that is capable of driving 1080p video decoding. They include 2GB of RAM and both a mini-HDMI and Micro SD ports for expansion.
The 8-inch Platinum tablet features a 1024 × 768 resolution screen and will be priced at $199, while the 9.7-inch Platinum HD tablet will have a high resolution 2048 × 1536 resolution display and will sell for $299. The company said that both of these tablets are expected to be available by the end of the month.
The largest of the three, the Archos 116 Platinum will have a 1920 × 1080 resolution screen and is expected t ship in April with a for $349 price tag.
The tablets look sharp and appear to be a solid offering, yet the company has not yet made available how much storage the devices will have makes it impossible to give a solid assessment of them at this time. With Apple and Microsoft offering 128GBs and others have or will follow suit, it is an important factor when making comparisons.